Masterclass blockchain for investors by Maven 11
Maven 11 Capital is a pioneer investment firm focused exclusively on the blockchain technology sector.
We believe that blockchain is a major technology wave that will impact the world comparable in scale to the invention of the internet. Above all, we passionately believe this wave will fundamentally change and improve economic and social structures across the globe.
Join us for an inspiring masterclass, where we will discuss subjects such as:
What is blockchain technology
Our investment thesis
Investment case
Networking drinks
We welcome an audience of blockchain enthusiasts, entrepreneurs and investors with a keen interest for cutting-edge technologies.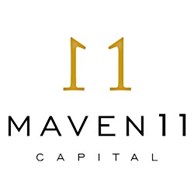 Masterclass blockchain for investors by Maven 11
Science Park 406 (Matrix V) Amsterdam
Thursday, January 24, 2019
3:30 PM - 5:30 PM
free for investors
The entry date for this event has passed. You cannot sign up anymore.
All events